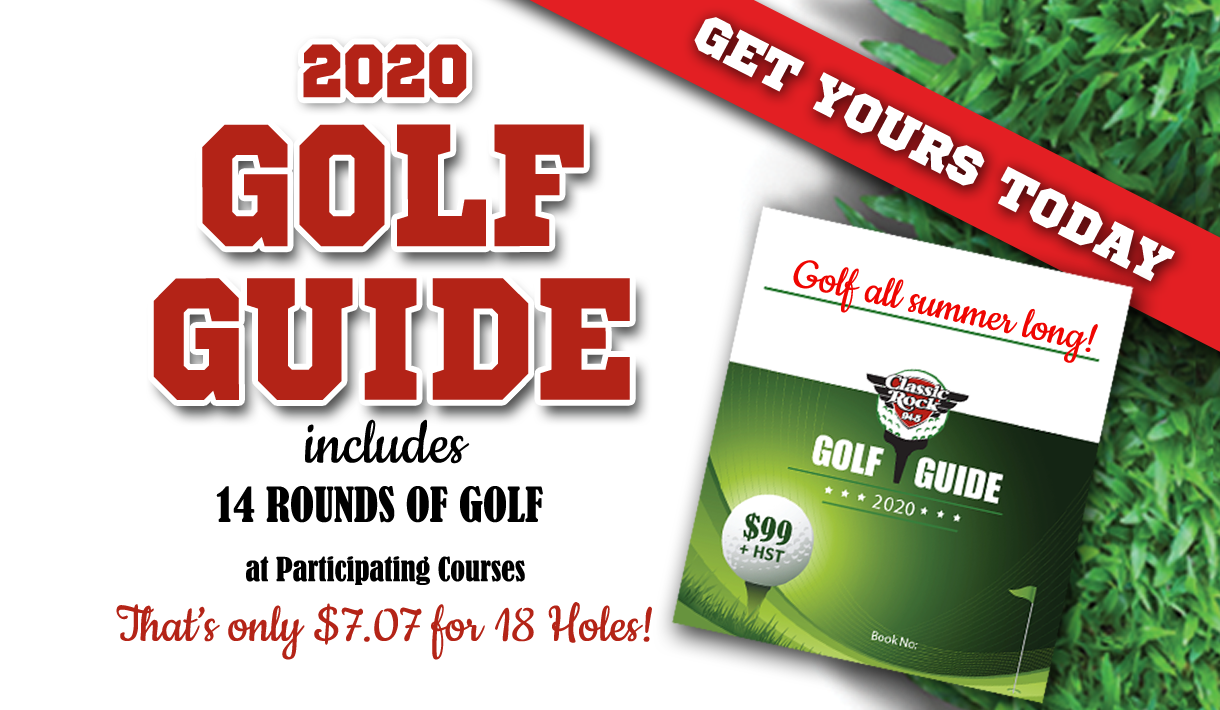 Golf Guide
Get your 2020 Golf Guide now! 
There isn't a better deal around, only $7.07 per round of golf! Perfect for any avid golfer or a great gift for the golfer in your life.
Offering golfers the opportunity to play 14 ROUNDS OF GOLF  at the following Golf Courses for only $99+HST  in 2020 (cart not included).
How to Purchase:
Call 1.800.265.3030 to order your book and we'll pop it in the mail (for a small fee) or visit Blackburn Radio Wingham at 215 Carling Terrace in Wingham (Office Hours Mon. – Fri. 8:30 am – 5 pm, closed from 12 – 1 pm for lunch)
*CASH OR CREDIT CARD ONLY
How the Classic Rock 94-5 Golf Guide Works
The Golf Guide contains 14 coupons for 18 holes of Golf, one coupon for each participating golf course.
With each round of golf, a mandatory power cart rental is required at the golf course rate (not included in Classic Rock 94-5 Golf Guide)
Valid 7 days a week after 1 pm. Call to book a tee time and reserve a golf cart. Give them your golf book number at the time of booking.
Not valid during tournaments or leagues.
Name of the intended golfer will be printed on the Golf Guide upon purchase. This book is valid for intended golfer only.
Rainchecks won't be given once the page is redeemed. Golfers must book a tee time in advance. Courses may ask for valid ID when presenting the Guide.
Golf Guide or pages won't be replaced if lost/stolen.
Coupons are only valid for the courses 2020 golf season.
Limit one Golf Guide purchased per golfer.
Page must be presented intact and inside the Golf Guide for redemption. Taking pages out of the golf guide will void your golf round.
There are only 500 books printed, so don't delay!